by Paula on February 21, 2018
Improving Integrations with Things and Sharing Providers
We've continually been working on improvements to MindNode 5 since it's release. Generally we save the list of changes for the release notes. Today though we sneaked some interesting changes into a minor release and we want to highlight some changes for you that we think you should definitely know about.
New Things export
Integrations with other Apps is one of the things that makes MindNode so powerful. What we can offer often depends on what interfaces the developers of another software offer. One such are URL Schemes that allow you to perform an action like opening a new document in another app.
With Things 3.4 Cultured Code are introducing an all new URL Scheme that will allow us not only to improve our task export to Things 3, but also to finally bring it to iOS.
To use the improved new export of your tasks to Things 3, ensure that you have MindNode 5.0.6 or later. Select the share button and select Things as your export location.
This will create a new project in Things titled with the name of your document. Below the title you will find a URL that opens the MindNode file directly (if your document is saved in the MindNode container in iCloud Drive), regardless of whether you are on the Mac, or on iOS.
In MindNode only the outermost leaves of a branch are tasks, their parents and grandparents only carry a status indicator. Previously the hierarchy of a node was hidden in a note on the newly created task in Things. Now we create headings that show the hierarchy of the respective tasks and the notes field is free to be filled with the notes you have added to that task in MindNode.
Things is available for the Mac, iPad and iPhone. There is a free trial of the Mac version available on the Cultured Code website.
Improved Support for third Party cloud services
Those of you, who are into that kind of technical detail, know that MindNode uses a package format. Package formats are like hidden folders *pretending* to be a file. What this allows is to store different components of a file separately, which is great when you are re-uploading a file and only have to update the text rather than also updating picture elements. It makes uploads and downloads faster and uses less mobile data.
Unfortunately not all cloud services handle package formats really well. Generally they need to be particularly coded to do so. For that case we offer a single file format. Until recently you had to specifically select and export this format in MindNode. With version 5.0.6 we are automatically detect where you are saving a file and will change the format to single file if you are NOT saving to the MindNode container in iCloud Drive, or locally. This enables you to use Box, Dropbox and OneDrive in the new document browser.
For now this change is iOS only, but we plan to also bring this feature to our Mac version. Until than you can manually switch new documents to single file in the main menu under *File > Advanced > File Format > Single File*.
Bringing URL Schemes to MindNode 5 for Mac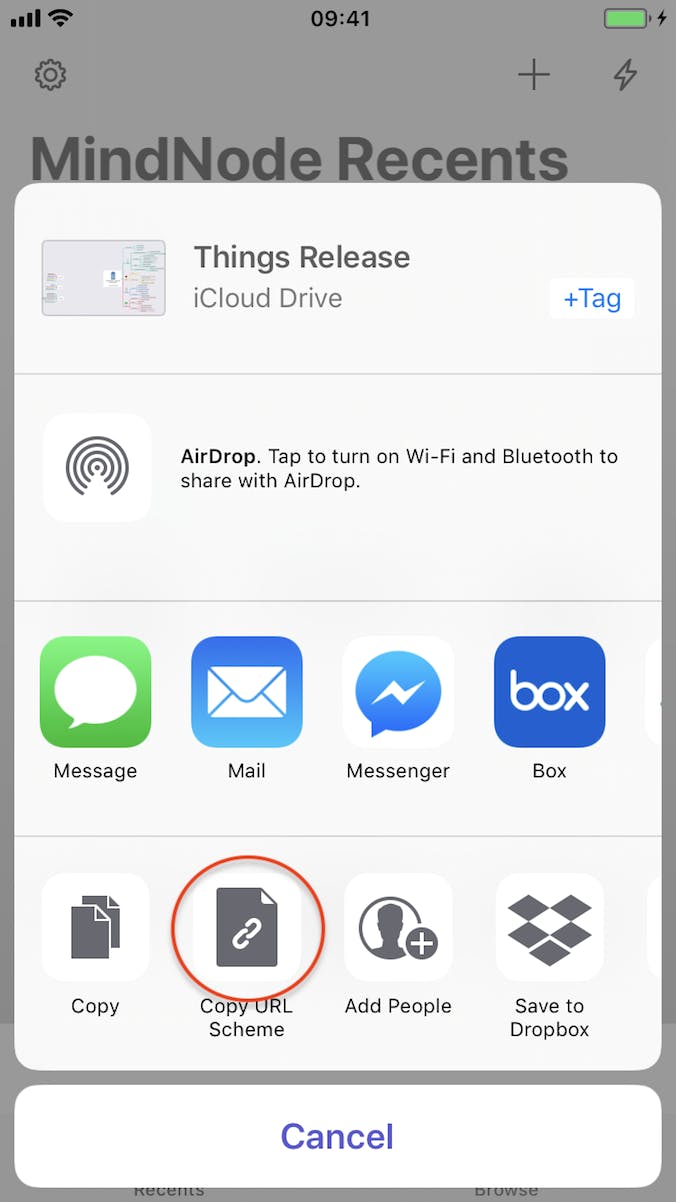 On iOS we have had the ability to open a MindNode document using a URL scheme for some time now. In a recent update we made this even easier by adding a new sharing extension to create the URL directly from the document manager UI (long press on a document in document manager, select "Share" and pick "Copy URL Scheme" from the sharing actions). With 5.0.6 we are now bring the URL schemes also to the Mac. You can now use the format mindnode://open?name=YourDocument to link to any file in the MindNode iCloud container and links will work on iOS and macOS.